Slingshot Mobile™
Mobile Inventory Management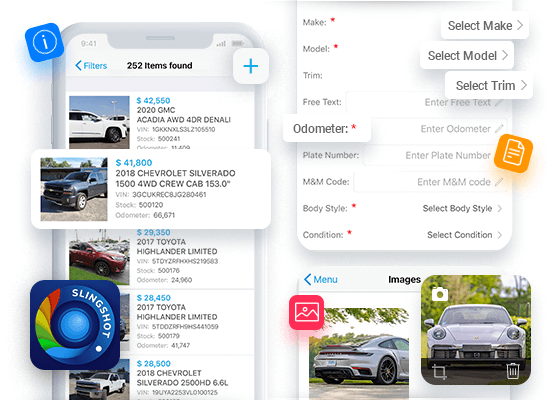 Manage your inventory / Upload your stock from mobile device
With Autoxloo's mobile, patented SlingShot™ software, dealers have more control over their inventory. Have an access to the inventory when you really want, at time that suits you. With Slingshot Mobile™ you can check vehicle details from just about anywhere. There's no need to be tied to computer and confusing software anymore, simply get in and upload vehicle's stats, photos even videos to your inventory. If you appreciate your time and have smartphone or tablet (show me the person who haven't), Slingshot Mobile™ is the perfect tool for you.
Capture Complete Car Profile In Less Than 5 Minutes!
Slingshot Mobile™ works by scanning the vehicle's VIN, taking a few pictures and navigating point-and-click menu which will describe how the car was utilized in the past. Use our VIN Decoder and capture all relevant information in 5 minutes or less with our VIN explosion capability. A vehicle history are entered in a few easy steps. As you see, the technology behind all of this is transparent. You won't need an IT degree to quickly capitalize on it's abilities. Application that can streamline productivity and make inventory comparison easier.
Slingshot Mobile™ will definitely help you:
Reduce inventory turn rates by up to 10 days
Increase productivity
Advertise vehicles online before even leaving the auction
Decrease time lost
Increase turnover rates
Give access to the inventory to third party if needed
Reduce IT Involvement
Deploy easily
Better showcasing of your vehicles
Lost Internet connection? Not a problem! Upload all necessary data, your vehicles will just have pending status, and when the connection will be restored, vehicles will be uploaded automatically. Enjoy the ability to upload or check your vehicle inventory offline!