Vehicle Showcase Tools
See how easy it is to stand out
An effective dealership Internet marketing program depends on compelling showcasing and merchandising of vehicles. Autoxloo's Showcase Tools make it easy and quick to enhance the Internet listing of current vehicle inventory to provide richer information for the prospective car buyer. We provide add-on functionality that enables automotive dealers to enhance the visibility of their vehicle inventory online, differentiate the listing from their competitors and drive more traffic to their Internet listed vehicles. Better online vehicle listings translate to more lead conversion. Take a look at our Showcase Products to see how easy it is to stand out.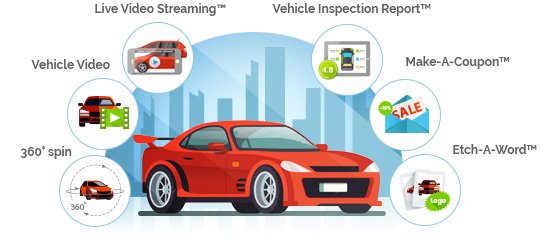 SPOTLIGHT YOUR VEHICLES WITHOUT PAYING PREMIUM LISTING FEES
Live Video Streaming™
The LVS™ application is the next evolution in lead generation / conversion for both automotive dealers and commercial truck dealers. The Autoxloo LVS™ enables the sales person to provide a live video tour of any vehicle at their dealership. Provide your sales team with a tool they need to convert shoppers into buyers.
Vehicle Inspection Report™
Vehicle Inspection Report™ provides protection when selling, buying, and financing vehicles. VIR™ is easy to implement and has a full VIN decoding when auditing the vehicle to save the pertinent information about the vehicle and catalog multiple photographs with comments. VIR™ supports all areas of the vehicle such as exterior, interior, drive train, exhaust system, electronics and frame. By having transparency of information dealerships are gaining a customer for life.
Make-A-Coupon™
With this module you will be able to create coupons for your website specials, highlight upcoming events or special proposals. Make-A-Coupon™ gives you an ability to design own templates. You can use Text, Templates, Shapes, Stickers, Logos, Background Images from the library or upload your own images and Templates. And your Coupon will be ready for print or adding to the website.
360° spin
360° Spin is a great way to show all details about your vehicle. Be ready give your customers more. In Upload Wizard after decoding main information from VIN, system also checks if 360 view Flash is available for this particular vehicle or you can upload any other Flash animation for it.
Etch-A-Word™
New Etch-A-Word™ tool allows you to put text description easily on your vehicle photos. This tool automates the tedious tasks of using Paint or Photoshop tools to accomplish the same effect.
Simple Drag and Drop Features
Fully Adjustable Text Settings
Vehicle Options
Text Annotations and Pointers
Custom Logo
Driven Graphics
Template Frames
Vehicle Video
Enhance your messaging and increase your online visibility with Vehicle Video. You can easily upload ready video from your laptop, embed as HTML or browse by URL from Video Services (ie YouTube) or generate it within DMS with our Video Converter or Make-A-Show™ tools:
Convert Vehicle Videos
Background Audio
Video Export to Media Channels (i.e. YouTube)
Email Notification with Video Attachment
Video Library stored in your DMS
Speech to Text
Add Initial and Exit Commercial Videos